Pocket SlideShow - Key Features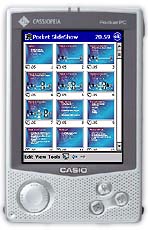 Slide rendering and scaling optimized for Pocket PC, Smartphone and Handheld PC display.
Full screen presentation mode with screen rotation if required.
Zoomable/scrollable slide preview.
Thumbnail view to browse slides and change their order.
Editing of transition effects and slide timings.
Undo/redo of slide sorting and animation editing.
Merge slides from different presentations.
Copy presentation notes to other documents.
Easy single handed slide browsing, using jog dial or cursor buttons.
Supports the standard PowerPoint transition effects.
ClearType rendering of presentation notes for improved readability.
Adjust font size according to your preference.
Direct output to external display (for Dell Axim X50v and X51v) or using an optional video adapter (Toshiba Expansion Pack, Voyager VGA, Margi PresenterToGo, LifeView FlyJacket, etc.)
Easy PowerPoint file conversion via ActiveSync.
Integrated file explorer to open files from entire storage.
Context sensitive help.
Full install/uninstall support.
Small footprint and memory requirements.
Microsoft and PowerPoint are registered trademarks of Microsoft Corporation.
Tips & Tricks

Rearrange your slides

Use thumbnails to view multiple slides.
Tap and drag to select the slides that you want to move.
Tap and drag again to move the slides to the desired position.

Your stylus slipped?
Just tap Edit > Undo to undo/redo last commands.

Effect editing

Tap Edit > Transition to change settings for the current slide, or...
Use thumbnails to select multiple slides and apply the same effect.

Remove hidden slides
When saving or merging presentations, you can easily remove hidden slides by setting the appropriate File Options.