Welcome to Flash Format, the
full featured
storage card management utility for all
Windows Mobile
powered
Smartphone
and
Pocket PC
devices, as well as
Handheld PC
devices running Windows CE 3.0 or greater.
With Flash Format you can get detailed information and statistics about your storage cards, including physical characteristics (FAT type, sectors, cluster, cylinders, etc.) and analysis of file allocations (slack space).
Of course, you can also use Flash Format to perform integrity checks, repair allocation errors, and re-format compact flash cards, secure digital cards, mini sd, micro sd, mmc cards and MicroDrives to original conditions, directly on your handheld device: whenever and wherever you need it.
Flash Format supports all SD compliant and ATA compliant storage devices, including:
Secure Digital cards (SD cards)
Mini SD and Micro SD cards
Multimedia Cards (MMC cards)
Compact Flash cards
Microdrives (including 2GB and 5GB large capacity media)
SmartMedia cards and Memory Sticks
PCMCIA memory cards.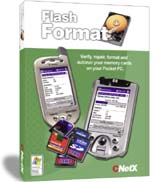 Flash Format includes options to choose FAT type and cluster size when formatting, the ability to create a backup FAT to improve storage reliability or to automatically create special folders that may be needed by your devices.
Furthermore, Flash Format lets you activate
AutoRun
on any storage card (without reformatting), so that your MP3 playlists, eBooks, PhotoAlbums or other software can be automatically started when specific cards are inserted (AutoRun is only available on the Windows Mobile / Smartphone and Pocket PC editions of the software).
Verify, Repair, Format and AutoRun you storage cards wherever/whenever you need it!