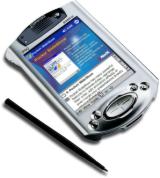 Pocket SlideShow is a powerful PowerPoint presentation viewer for Pocket PC,
Smartphone
and Handheld PC devices.
Thanks to Pocket SlideShow, you can keep your favorite Microsoft PowerPoint presentations right in your pocket, and enjoy full-screen slide shows, with optimized display and animations.
Pocket SlideShow has many powerful
features
to browse, rearrange or even merge your PowerPoint presentations directly on your PDA.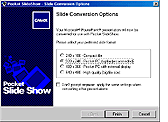 Pocket SlideShow also includes an ActiveSync conversion filter that automatically adapts your presentations to Pocket PowerPoint format, thus significantly reducing file size.
File conversion is quick and easy: simply drag your presentations from your Desktop PC to your Pocket PC or Handheld PC(via ActiveSync), and the conversion filter will automatically pop up and perform the requested conversions.
Pocket SlideShow runs on all Pocket PC devices (including Pocket PC 2002, Pocket PC 2003 and Pocket PC Phone Edition), as well as on Handheld PC Pro, Handheld PC 2000 and Windows Powered Smartphone devices.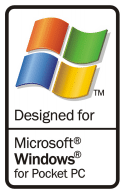 Pocket SlideShow 1.3 is formally certified as "Designed for Microsoft Windows for Pocket PC".
The Designed for Windows Logo is awarded to products that provide the best experience for Windows Powered Pocket PC and Smartphone.
Products that carry the Designed for Windows Logo have been certified and tested against Microsoft's quality standards for Windows Powered mobile devices.

Download your FREE evaluation copy
Register now!
Send us your Feedback



Microsoft and PowerPoint are registered trademarks of Microsoft Corporation.