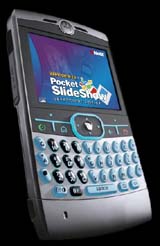 Pocket SlideShow, the popular PowerPoint viewer for Windows Mobile powered Pocket PC and Handheld PC devices is now also available for all Smartphone devices running Windows Mobile 5.0, Windows Mobile 2003 or Windows CE 3.0 or greater.
Pocket SlideShow lets you keep your favorite Microsoft PowerPoint presentations right in your pocket, so you can review presentations on the go, or keep important PowerPoint contents always at hand for quick reference.
We have engineered Pocket SlideShow to take advantage of the powerful multimedia capabilities of your Smartphone; yet we have made sure it is fast, easy and comfortable to use even taking into account the limited processing power and the physical constraints of a typical Smartphone device.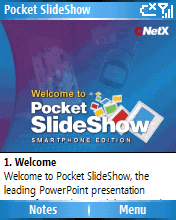 Pocket SlideShow takes just one second to open a presentation, and switching to full screen mode, or browsing to the next or previous slide in your presentation is simply instantaneous, exactly as you expect it to be.
While Pocket SlideShow is very fast and easy to use, it is also extremely compact. The software takes just 220KB* of memory on your Smartphone, yet it provides all the features you need to browse PowerPoint presentations anytime/anywhere: quickly and easily!


"CNetX's Pocket SlideShow application truly takes advantage of the Windows Powered Smartphone's rich data and multimedia capabilities. This product will add great functionality to the Smartphone by enabling mobile workers to review presentations when and where they want, right on their phone", said Robbie Wright, Director, Mobile Devices Marketing Group, Microsoft EMEA.
Pocket SlideShow for Smartphone won the "Microsoft Mobile Solutions Challange 2003" as best "Business and Office Productivity Application for Smartphone". The award was announced during the Bill Gates keynote at CTIA Wireless / MDC 2003 in New Orleans (March 19, 2003).
* Program footprint can be reduced to 220KB by deleting the demo presentation and the multilanguage DLLs.