Product Versions and Release History
We are continuously working to improve our software: if you have any issue or suggestion related to Pocket SlideShow, please, don't hesitate to contact our Product Support.
Version 1.51c - June 13, 2008
Stand-alone and ActiveSync conversion filters have been updated to support the PowerPoint 2007 file formats (PPTX and PPSX extensions).
Version 1.51b - May 26, 2008
Stand-Alone PPT2PSS conversion utility (not dependent on ActiveSync) is now included with all installation packages.
New "Getting Started" page is displayed after setup, with step by step instructions to transfer PPT files according to operating system.
Improved setup and compatibility with Windows Vista.
Version 1.51 - August 28, 2006
The
Pocket PC
edition of Pocket SlideShow has been improved as follows:
The English version of Pocket SlideShow is now signed with a Mobile2Market certificate (no security warning shown when installing on a WM5.0 device).
Low resolution program resources are now embedded within the main binary. Only HiRes resources are kept in a separate DLL.
DLLs supporting output to external monitors or projectors are no longer part of the basic installation package, resulting in smaller footprint. Such DLLs, if required, must be downloaded and installed separately.
Interaction with the full screen presentation menu may result in "ticks" being produced, regardless of the global sound settings. FIXED
Hardware events occurring while in full screen mode may result in unpredictable behavior. FIXED
HiDPI version of Pocket SlideShow icon was not shown correctly on some VGA device. FIXED
The
Smartphone Edition
of Pocket SlideShow has been improved as follows:
New: popup menu in full screen presentation mode to jump easily to any given slide.
New: support for Smartphones with landscape display (i.e. Motorola Q)
New: higher resolutions available when copying presentations to a Smartphone (resulting in better display quality and improved readability).
New: multilanguage support now includes Spanish.
New commands available on File Open screen (Rename/Delete).
Improved support for HiDPI Smartphones running Windows Mobile 5.0 and 2003/SE.
All binary files are now signed with a Privileged Mobile2Market Certificate, thus ensuring successful installation on most Smartphones.
Notes are now scrolled on the keydown event providing a smoother interaction.
Improved thumbnail view: the number of columns is adjusted dynamically to fit screen width.
Options in Show Settings screen are now shown dynamically based on the actual capabilities of the device.
Other minor fixes, including:
A wrong combination of view mode and menu may be shown when restarting the application. FIXED
Show Settings dialog box was closed when pressing the Action button on the Rotate control. FIXED
Keeping the action button pressed may result in endless switching between full screen and preview mode. FIXED
Back button may not work properly on the Transition and Show Settings dialog boxes. FIXED
Some dialog box controls did not resize properly to fit the screen width. FIXED
In some circumstances, when switching from Thumbnails to Preview mode, the notes were not properly be aligned at the top of the page. FIXED
A compatibility warning may appear when installing the software on a WM5.0 Smartphone. FIXED
If the software was left in the File Open screen, it was possible to launch of a second instance of the program. FIXED
In some circumstances installation may fail if a previous version of the software was already running. FIXED
The following improvements and fixes apply to all platforms supported by Pocket SlideShow.
New layout/graphic in the ActiveSync Conversion Filter and Setup Wizard.
If device is properly connected during installation, the setup wizard detects previous installation and skip the registration screen accordingly.
Improved error messages and diagnostic for users of ActiveSync 3.8 or earlier versions.
Installation logic for all CAB files has been revised to reduce the possibility of the wrong CAB file being selected for installation on any given device.
In some circumstances, when overwriting an existing file, the "Save Presentation As" command may fail without any message or warning. FIXED
During uninstall the CNetX root key may be left in the registry. FIXED
Version 1.50 - July 21, 2006 (Pocket PC Only)
Improved compatibility with Windows Mobile 5.0.
Full support for square screen devices:
The Evaluation version of the software couldn't be executed on square screen devices. - FIXED
Preview panes are now displayed vertically on square screen devices, thus improving usability.
Splash screen and About Box layout now resize nicely on devices with a square screen.
General and Output Options dialog boxes have been revised also revised.
Transition dialog box rearranged for square screen devices.
The Intel 2700G processor/adapter was listed in the Output Dialog Box even if not actually installed on the device. - FIXED
Improved operation of the resizable splitter bar in preview mode.
On startup the SIP button may overlap the Splash Screen. - FIXED.

Version 1.41 - March 7, 2006 (Pocket PC Only)
Windows Mobile 5.0 compatible:
Conversion of PPT files may fail when copying files to a Windows Mobile 5.0 device - FIXED
An error may occur when leaving full screen / presentation mode on Windows Mobile 5.0 - FIXED
Bottom portion of Open / Add Files list was not displayed properly on Windows Mobile 5.0 - FIXED
Installation packages are signed with an updated and timestamped Authenticode certificate.
The Pocket PC edition of the software is now also available in Spanish and Italian.

Version 1.40 - February 23, 2005
Improved compatibility with devices running Windows Mobile 2003 SE.
Supports the external VGA output capabilities of the Dell Axim X50v device.
Fixes an issue with the Conversion Options dialog box in the ActiveSync component.
The Pocket PC edition of the software is now also available in French.
Other minor fixes and improvements. Version 1.35 - July 23, 2004

Compatible with Windows Mobile 2003 Second Edition.
Supports Portrait / Landscape orientation in dialog boxes and other UI items.
Takes advantage of Pocket PC devices with hi-res (VGA) displays.
Fixes a bug with the "Tools > Beam Presentation" command.
Other minor fixes and improvements. Version 1.30 - June 27, 2003

Fully compatible with Windows Mobile 2003 devices (Pocket PC 2003).
Improved support for non-English character sets.
Smaller PSS file size.
Improved VGA adapter support (e.g.: FlyJacket, Toshiba Expension Pack, Voyager VGA, Margi PresenterToGo, etc.).
Smarter interaction in slide show mode: much easier to use!
New commands for controlling presentation mode ("Black screen", "Erase Pen", etc.).
Option for anti-clockwise full screen rotation.
Other minor fixes and improvements. Version 1.21 - July 07, 2002

Support for Handheld PC Pro devices. Version 1.20 - June 11, 2002

First version of Pocket SlideShow for HPC 2000 devices.
Enhanced zoom control.
Drawing and annotation features in presentation mode.
Popup menu now available in presentation mode (includes slide selector).
Improved support for external VGA cards (Colorgraphic Voyager, Margi PresenterToGo, etc.)
Enhanced setup and conversion filter installation.
Other minor fixes and improvements. Version 1.15 - September 18, 2001

Support for VGA, S-Video and Composite output on external video cards;
New Output options screen to set color-depth and resolution on external video cards;
New 800x600 conversion;
Other minor fixes and improvements. Version 1.10 - August 13, 2001

Direct output to external VGA cards;
Smoother rendering;
Optimizations for HP Jornada 52x and other 256 color devices;
Other minor improvements. Version 1.06 - July 20, 2001

Conversion of both PPT and PPS PowerPoint files;
Improved installation logic on Windows 2000 and NT. Version 1.05 - July 9, 2001

Now supports both PowerPoint 97 and PowerPoint 2000 (or greater);
Enhanced compatibility with third party task switchers;
Improved installation logic. Version 1.00 - July 3, 2001
First general release of Pocket SlideShow for Pocket PC.
Pocket SlideShow 1.51c
June 13, 2008
Version 1.51c now includes the stand-alone PPT2PSS conversion utility, full support for PowerPoint 2007 file formats, and improved installation compatibility with systems running Windows Vista.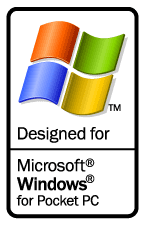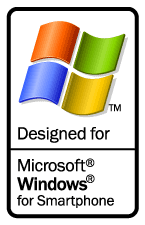 "Thumbling slides"
Use your Pocket PC jog dial to browse your slides by just moving your thumb:
move down to next slide;
move up to previous slide
press the dial to switch to full screen mode!