The European Pocket PC 2002 launch event was held at Sadler's Wells Theatre in London on October the 4th, 2001. CNetX was among the Independent Software Vendors showing their solutions in the Partner Expo area, on the mezzanine floor of the theatre.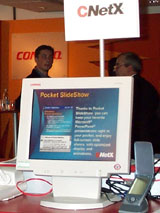 As shown in the photographs, we announced and presented the new version of
Pocket SlideShow
, the best seller PowerPoint viewer for Pocket PC devices.
We had one of the new HP Jornada 568 Pocket PC 2002 devices, with a Colorgraphic Voyager VGA compact flash card connected to a TFT monitor, and Pocket SlideShow showing a presentation of our products.
The performances of the new HP unit, together with the 64K color depth of the new Voyager card, allowed Pocket SlideShow to give its best: as most visitors acknowledged, the quality of presentation was impressive.
Pocket SlideShow recently won the 2001 People's Choice Pocket PC Award in the PowerPoint Viewer category, with nearly one preference vote every two!