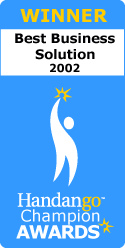 Bologna (Italy), June 28, 2002
- CNetX Pocket SlideShow, the popular PowerPoint viewer for Pocket PC devices, won the Handango Champion Award as "Best Business Solution 2002".
The awards were presented at a dinner in historic San Antonio (Texas) during the Handango Partner Summit, sponsored by Microsoft, Nokia, Palm and USAToday.com. Winners were chosen from thousands of applications available from Handango, and the panel of judges included Leonard Fischer (USAToday.com), Shawn Barnett (Pen Computing), Steven Bush (Brighthand Consulting, Inc.), Wes Salmon (PDABuzz.com), Ronald Rosberg (Early Adopter/ABC Radio - KSFO and KGO AM), Ronny Ko (Bityard Magazine), James Hromadka (VisorCentral) and Bill Mann (industry expert).
Pocket SlideShow is a compact Microsoft® PowerPoint® viewer allowing Pocket PC users to keep their favourite presentations right in their pocket, and to enjoy full-screen slide shows, with optimised display and animations.
Pocket SlideShow includes many powerful features to browse slides, edit transition effects, and even rearrange or merge slides from different presentations. Full support for output on external video cards allows presentations to be displayed through an external monitor or projector, directly from a Pocket PC.
Since its first release, Pocket SlideShow has been steadily among the TOP 10 best selling Pocket PC applications at Handango, and the attribution of the Handango Champion Award as "Best Business Solution 2002" honoured this outstanding success.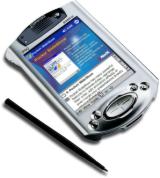 "The Handango Champion Awards are an exciting opportunity for Handango to honour the best in mobile software and the extraordinary companies that make this market so hot," said Laura Rippy, chief executive officer of Handango.
"It was a true honour to receive this award and to be chosen by such an impressive panel of independent experts," said Agostino Morreale, CEO of CNetX. "This award demonstrates that our products are recognized by the mobile community at large, which is really a great encouragement for us to improve further."
Pocket SlideShow is currently at version 1.21: a full-featured version of Pocket SlideShow can be downloaded for evaluation from the CNetX web site (www.cnetx.com).