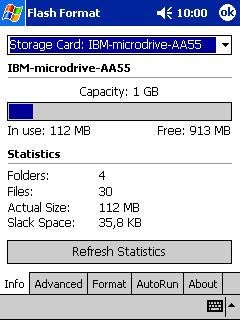 Bologna, Italy, August 27, 2003
- CNetX has announced the latest release of Flash Format, which includes full support for Pocket PC 2003 devices running the latest Windows Mobile 2003 operating system.
Flash Format is very popular storage card management utility for Pocket PC and Handheld PC devices, providing the ability to obtain detailed information and statistics about storage cards usage, perform integrity checks, fix allocation errors, and re-format storage cards directly on handheld devices.
On Pocket PC devices Flash Format includes the ability to set "AutoRun", so that specific programs or files (such as games or MP3 playlists) can be automatically activated upon card insertion.
Flash Format 2.60 supports all ATA and SD compliant storage cards, including Compact Flash Cards, SD cards, MultiMedia cards, SmartMedia card, MemoryStick and MicroDrives, and runs on all Windows Powered Pocket PC and HPC devices, including the latest PDAs based on Windows Mobile 2003 operating system.
Flash Format was recently nominated for the Pocket PC Magizine Awards 2003, which will be presented at the next Pocket PC Summit in Las Vegas (Oct. 2003).
Flash Format can be purchased online for $11.95. Version 2.60 is available as a free upgrade to all registered users of version 2.xx.
A full featured demo version of Flash Format can be downloaded from CNetX web site (www.cnetx.com). Single tap installation is available for people downloading directly to their Pocket PC device.