Bologna (Italy), July 28, 2002
- CNetX Pocket SlideShow, the popular PowerPoint viewer for Pocket PC devices, won the Handango Champion Award as "Best Business Solution 2003".
The awards were presented in Scottsdale (Arizona) during the Handango Partner Summit 2003, sponsored by Microsoft, Nokia, Sony Ericsson, Palm and Handspring. Winners were chosen from thousands of applications available from Handango, and they were determined by an elite panel of judges including experts from Gannet News Service/USA TODAY, Network Computing, ABC Radio - KGO AM810, Pen Computing, Wireless Gaming Review, Java World, Phone Scoop, Pocket Goddess, Palm Infocenter, Wireless Developer Network, My-Symbian, The Gadget Guy, Bityard Magazine, Visor Central and PDAStreet.
Pocket SlideShow is a compact Microsoft® PowerPoint® viewer allowing Pocket PC users to keep their favourite presentations right in their pocket, and to enjoy full-screen slide shows, with optimised display and animations.
Pocket SlideShow includes many powerful features to browse slides, edit transition effects, and even rearrange or merge slides from different presentations. Full support for output on external video cards allows presentations to be displayed through an external monitor or projector, directly from a Pocket PC.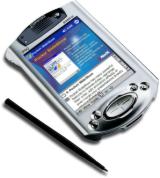 Since its first release, Pocket SlideShow has been steadily among the TOP 10 best selling Pocket PC applications at Handango, and the attribution of the Handango Champion Award as "Best Business Solution" for the second year in a row honoured this outstanding success.
"It was a true honour to receive this award and to be chosen by such an impressive panel of independent experts," said Agostino Morreale, CEO of CNetX. "This award demonstrates that our products are recognized by the mobile community at large, which is really a great encouragement for us to improve further."
Pocket SlideShow is currently at version 1.30: a full-featured version of Pocket SlideShow can be downloaded for evaluation from the CNetX web site (www.cnetx.com).