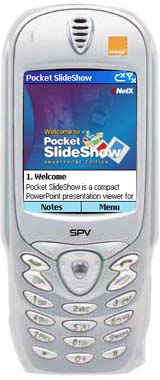 Bologna (Italy) October 22, 2002
- CNetX today announced that Pocket SlideShow, the popular PowerPoint viewer for Windows® Powered handheld devices is adding support for Microsoft Windows Powered Smartphone software. The application will be demonstrated today at the integrated launch of the Orange SPV Windows Powered Smartphone in London.
Pocket SlideShow is a powerful PowerPoint presentation viewer for handheld devices. Thanks to Pocket SlideShow users can keep their favourite Microsoft PowerPoint® presentations right in their pocket, and enjoy full-screen slide shows, with optimised display and animations.
The Smartphone Edition of Pocket SlideShow is extremely compact and it is specifically tailored to take advantage of the unique multimedia capabilities of the Microsoft Windows Powered Smartphone, thus further extending the ability to review presentations anytime / anywhere.
"CNetX's Pocket SlideShow application truly takes advantage of the Windows Powered Smartphone's rich data and multimedia capabilities. This product will add great functionality to the Smartphone by enabling mobile workers to review presentations when and where they want, right on their phone", said Robbie Wright, Director, Mobile Devices Marketing Group, Microsoft EMEA.
Pocket SlideShow for the Windows Powered Smartphone implements a single-handed operation paradigm, so users can browse quickly and effectively through their presentations. Four different views are available:
slide preview (with zoom control and slide scrolling);
presentation notes;
slide thumbnails;
full screen mode with landscape orientation and animation support.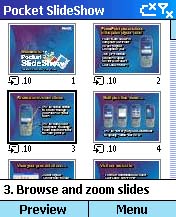 View switching is achieved by pressing a single key, while the cursor keys are always available to move forward and backward in the presentation, thus providing a very effective user experience.
Automatic multilanguage support is also included, so that menus and screens automatically adapt to the language selected by users on the phone. The current release of the Windows Powered Smartphone supports English, German, French and Italian, with Spanish to be added soon.
"Pocket SlideShow has been among Top 10 best selling Pocket PC applications for well over a year now", said Agostino Morreale, CEO of CNetX. "We felt the Windows Powered Smartphone offered an excellent opportunity to extend this success by providing users with the ability to review presentations directly on their phone."
Orange, one of the leading European carriers, has already selected Pocket SlideShow as one of the software application to be bundled with its new Windows Powered Smartphone, the Orange SPV™ device, which will be distributed in the U.K., France and other European countries.
Pocket SlideShow has successfully passed the certification tests defined by Microsoft's Mobile2Market testing and certification programme, and has been given the "Designed for Microsoft Windows for Smartphone" logo. Mobile2Market provides technical and marketing support to software vendors for the development, testing and distribution of network-ready applications.
More information on Pocket SlideShow, including a full list of features, documentation and screenshots can be found on the CNetX web site:
http://www.cnetx.com/slideshow/