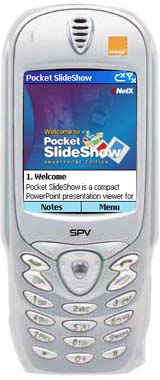 Bologna (Italy) October 21st, 2003
- In conjunction with the North American launch of Windows Mobile-based Smartphones, CNetX announces today version 1.4 of Pocket SlideShow, the popular PowerPoint viewer for Windows Mobile-based devices.
Pocket SlideShow is a powerful PowerPoint presentation viewer for handheld devices. Thanks to Pocket SlideShow users can keep their favourite Microsoft PowerPoint presentations right in their pocket, and enjoy full-screen slide shows, with optimised display and animations.
"The Windows Mobile-based Smartphone combines rich multimedia capabilities with an interaction model which is familiar to most users." - commented Agostino Morreale, CEO of CNetX - "Pocket SlideShow leverages on this unique combination, providing mobile workers with the ability to review PowerPoint presentations anytime / anywhere",
The Smartphone Edition of Pocket SlideShow is extremely compact and it implements an effective single handed interaction paradigm. Users can browse their presentations using four different views:
slide preview (with zoom control and slide scrolling);
presentation notes;
slide thumbnails;
full screen mode with landscape orientation and animation support.

Version 1.4 of Pocket SlideShow for Windows Mobile-based Smartphones takes advantage of Microsoft ClearType technology to improve text readability on small screen form factors. The latest version also adds support for exchanging presentations with other users (via infrared beaming, email, etc.) and improves slide rendering in full screen mode.
"Windows Mobile-based Smartphones give users the familiarity and functionality of their desktop PCs - in a small, convenient handset," said Irwin Rodrigues, lead product manager for the Mobile Devices Division at Microsoft Corp. "We are pleased that CNetX will be supporting the Windows Mobile platform because end users will benefit from the flexibility and convenience of Pocket SlideShow and its ability to view PowerPoint presentations on the move."
A full version of Pocket SlideShow is bundled with the SPV Smartphone, distributed by Orange in the U.K., France and other European countries.
Pocket SlideShow has successfully passed the certification tests defined by Microsoft for the "Designed for Microsoft Windows Mobile" logo and it is listed on the Microsoft Mobile2Market catalogue.