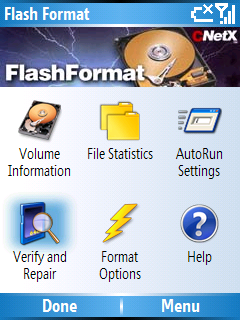 San Diego (California) March 2nd, 2007
- CNetX is glad to announce the availability of the first Smartphone release of
Flash Format
, the popular storage card management utility already available on Pocket PC and Handheld PC devices.
As it was the case when the Pocket PC edition was first introduced in 2001, Flash Format for Smartphone is the first utility to provide Smartphone users with a full set of information and easy to use tools to keep their storage cards in optimal conditions.
The Smartphone Edition of Flash Format implements an effective Smartphone compliant user interface, with animated icons and soft-key menu providing easy access to all tools and information.
The "Volume Information" and "File Statistics" tools show full reports of the current storage card status, including file system information, cluster size, and analysis of file allocations ("slack space").
The "Verify/Repair" tool lets users scan their storage card for allocation arrors, and recover any space missing because of lost clusters. Any chain of "lost data" is placed in CHK files which can simply be deleted to recover the corresponding space, or that can be moved to a Desktop PC for further inspection, in case there's any important file or information that can be restored.
The "Format" tool provides a full set of formatting options so that users can optimize storage card characteristics by selecting the File System type and cluster size that best suits their typical usage.
Last but not least, the "AutoRun" feature allows users to specify a file or program to be automatically activated whenever a given storage card is inserted. This is extremely handy to have a playlist, photo album or game immediately start playing as soon as the corresponding storage card is inserted, without the need to go through the Start > Programs list, or browse around with a File Explorer.
A detailed "Help / Troubleshooting" guide is also included, with plenty of tips on how to use Flash Format and keep storage cards in perfect shape.
The Smartphone Edition of Flash Format requires only 200KB of storage memory, and it is compatible with all Windows Mobile powered Smartphone devices, including Smartphone 2002, Smartphone 2003 and Windows Mobile 5.0.
Download and Purchase
A free full featured evaluation copy of Flash Format for Windows Mobile powered Smartphones can be downloaded from the CNetX Web site.
Flash Format Smartphone Edition can be purchased for only $12.95 from www.cnetx.com, Handango or MobiHand.