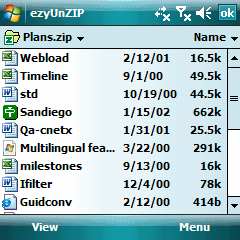 Bologna (Italy) April 19th, 2007
- CNetX is glad to announce the release 2.00 of ezyUnZIP, the popular ZIP extraction utility for Windows Mobile, Pocket PC and Handheld PC devices.
By keeping notes and documents in compressed ZIP format users can store more information on their PDA and storage cards, thus increasing the effectiveness of their mobile device. With ezyUnZIP users can also extract contents of any ZIP archive downloaded from the web, from newsgroups, or attached to incoming e-mail.
What's new in ezyUnZIP 2.00
The latest version of ezyUnZIP adds a wide number of improvements, including:
Enhanced device compatibility (supports all generations of Pocket PC devices)
Revised user interface, to improve interaction on devices with square screen
Compatibility with Windows Mobile 6.0
Switchable menu style with choice of "soft-key menu" for single handed operation, or "classic menu" for stylus interaction
Enhanced single-handed interaction using the left and right cursor keys to access recently used ZIP archives and change sort mode
Improved handling of encrypted ZIP files
Performance optimizations
Over-The-Air Installation
A compressed autoextracting installation package is available on our web site, allowing "over-the-air" download and installation in a matter of seconds. This compressed package is just 143KB in size, so it takes less than 30 seconds to download on a basic GPRS connection.
The availability of a direct-to-device download is extremely handy for people receiving ZIP attachments in their email, and looking for a full-featured unzip tool on the fly.
The OTA installation package includes a Mobile2Market signature, to certify the integrity and security of the installation package and all related binary files.
Download
ezyUnZIP 2.00 is distributed as freeware and can be downloaded from the CNetX web site:
For "Over-The-Air" installation simply connect to http://www.cnetx.com/ using your handheld device.