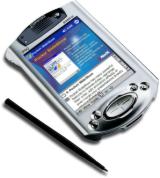 Bologna (Italy), June 27, 2003
- CNetX released today version 1.30 of Pocket SlideShow, the popular PowerPoint viewer for Pocket PC, Smartphone and Handheld PC devices.
Pocket SlideShow is a compact Microsoft® PowerPoint® viewer allowing users of Windows Powered Mobile device to keep their favourite presentations right in their pocket, and to enjoy full-screen slide shows, with optimised display and animations.
Pocket SlideShow includes many powerful features to browse slides, edit transition effects, and even rearrange or merge slides from different presentations. Full support for output on external video cards allows presentations to be displayed through an external monitor or projector, directly from a Pocket PC or Handheld PC device.
Pocket SlideShow 1.30 is fully compatible with the latest Windows Mobile 2003 operating system, recently announced by Microsoft, and it takes full advantage of the latest generation of Pocket PC devices (Pocket PC 2003).
The new version includes significant enhancements, such as smarter user interaction in full screen mode, reduced size of presentation files, new commands and options, improved support for non-English character sets, and better compatibility with the most popular VGA adapters for Pocket PC and Handheld PC devices.

Pocket SlideShow 1.30 is being released in English, German and Japanese, and it is available as a FREE UPGRADE to all registered users.
Since its first release, Pocket SlideShow has been steadily among the TOP 10 best selling Pocket PC applications at Handango, and it recently won the Microsoft Mobile Solutions Challenge as "Best Business and Office Productivity Application" for Smartphone, and as "Best Utility" for Pocket PC.
More information on Pocket SlideShow, including a full list of features, documentation and screenshots can be found at the CNetX website: www.cnetx.com.