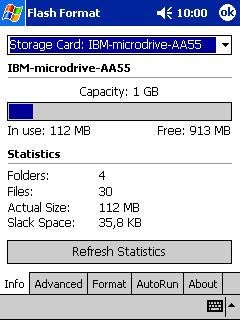 Bologna, Italy, January 30, 2002
- CNetX has announced the latest release of CNetX Flash Format, which now includes full support for MMC and SD card as implemented on the latest Casio iPAQ 38xx and Casio E200 Pocket PC 2002 devices.
Flash Format is currently the only full-featured storage card management utility for Pocket PC and Handheld PC devices. Thanks to Flash Format users can gather detailed information and statistics about their storage cards, perform integrity checks, fix allocation errors, and re-format storage cards directly on their handheld device.
On Pocket PC devices Flash Format includes the ability to set "AutoRun", so that specific programs or files can be automatically activated upon card insertion.
Flash Format 2.30 now supports all ATA and SD compliant storage cards, including Compact Flash Cards, SD cards, MultiMedia cards and MicroDrives, and runs on all Windows Powered Pocket PC and HPC devices.
The latest release also includes support for ClearType rendering of user interface elements, improved setup logic, and other minor fixes and improvements.
Flash Format 2.30 is available as a free upgrade to all registered users of version 2.xx; users of version 1.xx can still upgrade for only $3.95.
A full featured version of Flash Format can be downloaded from CNetX web site (www.cnetx.com). Single tap installation is available for people downloading directly to their Pocket PC device.